About
Company
Crossbolt IT Solutions is an India-based Software Development Company offering a complete set of Website Development, Website Designing, CMS Application Development, Mobile Apps, Customized Software Solutions, and Digital Marketing Services in India. We specialize in finding and creating solutions that allow our client's business offerings to stand out amongst the crowd. Our Web Development services allow our clients to focus on running their business and leave us to develop their website. We research our client's business to enable us to implement professional web development techniques to maximize our client's business full potential on the Internet. Crossbolt IT Solutions focus is on Web designing, E-commerce Solutions, Mobile Apps, Multimedia solutions, Internet Marketing, etc.
What
We Do
We're a group of professionals who also have programming and web development talents, and we only do things that are creative. We will examine and assess all parts of your business, do market research, identify approaches to achieve goals that will make your business plan more effective than your competitors, and complete the work with a grin on your face.
Website Design
Create an eye-catching website mockup that represents your company's colour scheme, layouts, and navigation, among other things.
Our developers ensure the latest functionalities and features which result in high customer engagement.
Ecommerce Solutions
"Go Global Sell Global."
To empower your online business and increase returns, use a feature-rich, adaptable, and powerful open source shopping cart to create your online eCommerce store like Amazon , Flipkart  Business Portals..etc
Social Media Management
The process of developing, posting, and analysing material on social media sites like as Facebook, Instagram, and Twitter is known as social media management.
To keep track of your social media accounts, you can use tools, services, and social media managers.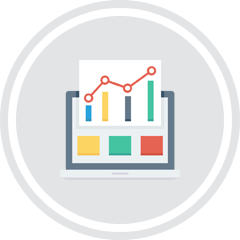 Digital Marketing & Advertisment
With our marketing services such as Google Ads, Facebook Ads, Youtube Ads, we'll assist you with all you need to keep current clients and get new ones so you can expand your business even further.
SEO (Search Engine Optimization)
With our SEO services, you may get more traffic, better rankings, and more brand visibility.
You can expect a twofold increase in traffic as well as a large return on your investment. Get in touch with one of our SEO experts.
Brand Design
A logo helps to create your brand in the marketplace and is essential for business advertising. Customers are familiar with a brand's logo.
We provide business advertising services like Logo Design, Website Banner, Amazon & Flipkart Creatives, Social Media Creatives.
Why
Choose Us
Crossbolt IT Solutions is an IT firm that specializes in website development, graphic design,  mobile app development, and digital marketing (SEO, SMO, and PPC, etc.). We have a team of designers and developers who work together to constantly deliver high-quality work to our clients all over the country.
CUSTOMER / MAINTENANCE SUPPORT
We offer Customer help desk and free of cost maintenance support for the websites which saves your money.
COMMITMENT TO WORK
Our personnel includes professionals who bring with them the wealth of experience and have carved a niche for themselves in the industry.
COST EFFECTIVE
Without compromising with quality, We provide best e-solutions at the lowest cost.
VARIOUS HOSTING PLANS
We offer monthly / yearly hosting for your websites at the half of the market rates which itself saves you few hundred rupees.
Checkout Our 
Recent Work
We love what we do, and our clients appreciate what we deliver. We are happy to have completed over 350+ projects for clients around the country. This has maintained our position as the greatest web design and development company in the market.
"Fantastic job! I am impressed by your quality of service and work strategy. I hired them for the development of my online store and they have satisfied me by offering an exceptional solution. They have a great experience, are dedicated, attentive, talented, and care a lot about customer needs. Highly recommended."
"Great team to work, very attentive, and react to the request immediately. Excellent work and I am really satisfied with the results. Thanks, Crossbolt IT Solutions."
Saurabh Parashar
HelpTogether Group
"Crossbolt IT Solutions has been absolutely fantastic in helping us manage all our various websites and technology issues. We could not ask for a better team to work. They respond to our inquiries at all hours and even on weekends. It is useful to know that we have someone available to help us with even the most urgent problems."
Anshu Anand
Snab Digitals
Turn Your Idea into Business
Let's start a friendly conversation